herzverstreut_bu
... If I vanish some time during the next days, this will be the reason: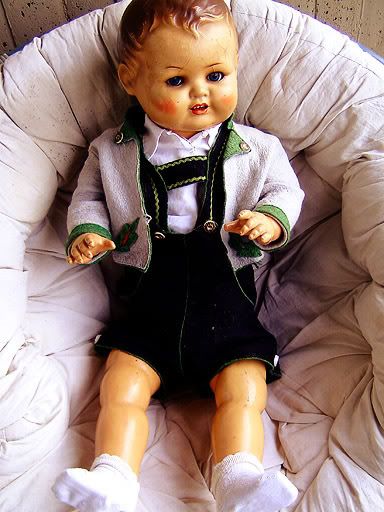 This thing creeped me out the fist time I saw it from the corner of my eyes in a mirror at

nairie
's grandma's, continued to do so every time I saw it since then, and made me go "... CHUCKY'S BAVARIAN COUSIN IS SUPPOSED TO STAY IN OUR APARTMENT UNTIL YOU'VE SOLD IT??!" when Dana pulled it out of a bag today. (The photo doesn't even
begin
to do it justice. The big rolling eyes, the lipsticked mouth with the tiny teeth, the too-big head - WHY WOULD YOU GIVE THAT TO YOUR KID??)
"Berlin: Gruesome Death by Murderous Doll." Watch out for the headlines next week.