Tonight I was too tired to think straight, so instead of going to bed, I played with Photoshop. And of course I didn't make anything useful, like icons, but added some more to my
South
Parkified
Bands
. Just one tonight, though (one band, that is):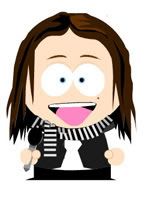 ( The rest )
I kind of want to veer from the Decaydance theme and do a chronology of Björk or something next. Or maybe I should do something that's actually
productive
. :|
P.S. New Okkervil River album = ♥ ♥ ♥
P.P.S. I owe some of you comments, will do that tomorrow, sleep now.