herzverstreut_bu
Today I was looking for a quick and easy recipe for something to take along to a get-together at Lambda (I was going to make raspberry shortbread, but forgot to buy butter *headdesk*). I didn't find anything, but got inspired by
this recipe
at FatFree Vegan Kitchen (one of my very, very favourite food blogs). I was lacking half of the ingredients, too, but what I threw together ended up being delicious and quite possibly the fastest, easiest cake/crumble thingy I've ever made.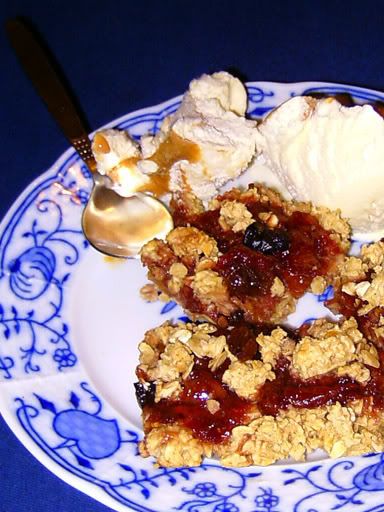 (The photo is no good, my camera's flash sucks.)
I really just threw this together, so there are no exact measurements, and the ones that are there are European, because I never got the hang of cups and ounces. Sorry! Just go by what looks right, you can't really get much wrong.
Crust:
ca. 250g rolled oats
1 egg
1-2 tbsp. sugar
1-2 tbsp. margarine or butter
1 1/2 tsp. baking powder
some milk or water (1/4 cup or so)
a pinch of salt
Filling:
cherry jam, as chunky as possible
a handful of chopped dried fruit and nuts (or even just trail mix)
a few drops of vanilla extract
Grind half the oats in a blender until fine. Combine with the remaining oats and other dry ingredients, then stir in the wet ingredients. (For a vegan variation, just substitute water for the milk and something binding for the egg - somehow the FatFree Vegan recipe calls for unsweetened apple sauce.) Spread half or so of the mixture evenly in a greased square cake pan and press down. (I put baking paper into the pan instead of greasing it, less messy.) Combine the jam, fruit/nuts mixture and vanilla extract and spread over the crust. Top with the remaining crust mixture and bake at ca. 200°C (FatFree Vegan says: 375°F) for half an hour or so. Allow to cool before cutting into squares.
It took me barely ten minutes to make this, but it does take a while to really firm up while cooling, so make sure to plan in a couple of hours for that. I served it with vanilla-caramel ice cream, and it was very tasty.
(I'd like to say "Everybody loved it!" but I ended up forgetting it at home.)